Come and celebrate with us, Dwesa, 18 April : Invite and Programme
Posted on:

30 March 2013

By:

dwesaadmin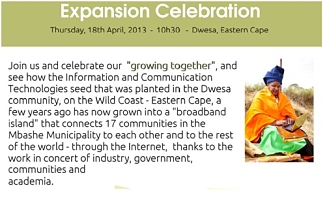 It is our pleasure to invite you to the Siyakhula Living Lab celebration now finally confirmed for the 18th of April 2013, in Dwesa, in the former Transkei of the Eastern Cape. The official invitation, draft programme and information guide has also been attached for your convenience. The event will be an opportunity for:
relevant government and industry bodies to visit a ICT telecommunications deployment, based on fixed and mobile WiMAX, VSAT, open source software and thin clients, in a marginalized community;
individuals to gain a hands-on understanding on what the concept of 'deep rural' means;
showcase the fieldsite from which the Telkom Centres of Excellence in ICT4D and Distributed Multimedia derives their research projects.
In order for us to assist you with logistics information such as car travel, kindly contact us on info@siyakhulall.org, by the 10th of April.