Second Living Lab workshop between South Africa and Tanzania
Posted on:

23 March 2015

By:

dwesaadmin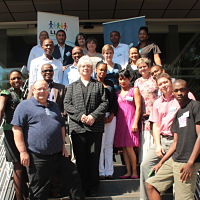 The 2nd Living Lab workshop between South Africa and Tanzania was held on the 17th of March, at Meraka Institute premises in Pretoria. The event was sponsored by the NRF in South Africa and COSTECH in Tanzania. It hosted delegates from our hosts Meraka Institute, the Department of Science and Technology, together with research institutions and living lab managers from both South Africa and Tanzania. The forum was kick-started by a suggestion from the Department of Science and Technology for the delegates to consider discussions on extending living lab partnerships to more African countries.
Then, each of the living lab managers had an opportunity to present the business models used within their living labs. These presentations demonstrated the similarities and differences in living labs, the need of technology as an enabler, the vastness of entrepreneurship skills and strength of social media in enhancing activities. After the presentations the delegates had the opportunity to identify the success factors in living labs (considering that every context is unique) together with lessons learnt towards building sustainability.
A workshop report document is currently being prepared.