Siyakhula Living Lab and Makana Apps Factory at the Eastern Cape ICT Summit
Posted on:

8 January 2015

By:

dwesaadmin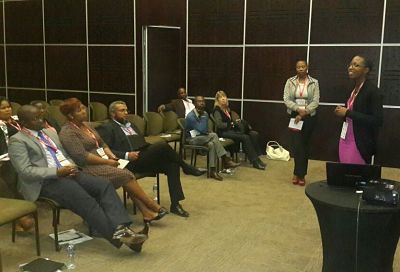 On the 21st of October 2014, four Siyakhula Living Lab researchers and Makana Apps Factory developers joined provincial and national ICT enthusiasts in the 10th annual Eastern Cape ICT summit held at the East London International Conference Centre. The theme of the event was "Technology Breaking Boundaries". It was attended by dignitaries such as the Honourable Premier of the Eastern Cape province Pumullo Masualle and SITA's CeO, Mr Freeman Nomvalo.
Our contribution was two fold; as exhibitors in the iKamva National e-Skills Institute (iNeSI) and Eastern Cape e-Skills CoLab exhibition stand to demonstrate the pre-versions of the applications Hitch-hike!, MicroTourism, Sell! and HealthMessenger, and also, through a presentation entitled ICT Research, Innovation and Development: An economic opportunity for the Eastern Cape.
The EC ICT Summit is designed as a tool for business development oppotunities through matchmaking sessions as well as to create platform to discuss topical ICT issues.