Siyakhula Living Lab presents in East Africa
Posted on:

4 June 2013

By:

dwesaadmin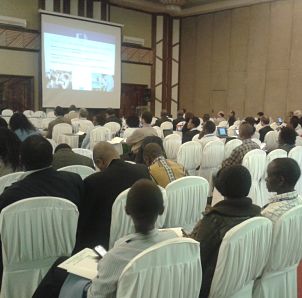 This year, the IST-Africa Conference and Exhibition was hosted at the Safari Park Hotel, in Nairobi, Kenya on the 29th to the 31st of May 2013. The event, which was the 8th of its series, and was attended by approximately 400 delegates, mainly from Africa and Europe. It featured 11 exhibition stands and 45 Parallel Sessions with representatives from public, private, education and research organisations in 40 countries (22 African and 18 European).
Mathe and I (Sibukele) attended on behalf of the Siyakhula Living Lab. Our contributions towards towards this conference were as follows:
I made a short Siyakhula Living Lab presentation in an intervention session on Tuesday the 28th in the Annual Living Labs Working Group Meeting. This group meeting was intended to discuss the potential of leveraging Living Labs methodologies for socio-economic development.
Two Siyakhula Living Lab papers were presented at the parallel sessions at the conference. Mathe presented a paper entitled 'A Look into Classification: Towards Building an Indigenous Knowledge Platform for Educational Use' in the Technology-Enhanced learning session, while I presented 'eSkills Training on Communal Fixed Infrastructure as an Activator of Personal Use of Mobile Internet' in a Living Labs to Support Skills Development session.
More information on the conference is available here.