Supporting the Evolution of Sustainable Living Labs and Living Labs Networks in Africa
Posted on:

22 September 2011

By:

dwesaadmin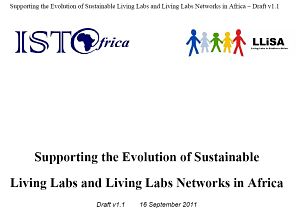 The White Paper, Supporting the Evolution of Sustainable Living Labs and Living Labs Networks in Africa, presents a proposed approach to achieving the sustainable adoption of Living Labs Networks (and Methodologies) across Africa. It is targeted at a range of Key Stakeholders including Researchers, Entrepreneurs, Government Officials, and potential funding agencies. It takes account of lessons learnt from establishing LLiSA in Southern Africa, regional perspectives to ensure cultural and other differences are taken into account, as well as international best practices.
As a result of reading this White Paper, relevant stakeholders will better appreciate:
(a) the basic concepts behind Living Labs,
(b) the different forms and focus that Living Labs can take,
(c) the potential socio-economic and quality of life benefits and opportunities presented by applying Living Labs Methodologies adapted to an African context,
(d) better understand the diversity of Living Labs related activities that already exist across Africa and
(e) better appreciate the enormous potential impact of replicating such activities across Africa.
Stakeholders are invited to provide contributions and additional case studies to secretariat@IST-Africa.orgThis e-mail address is being protected from spambots. You need JavaScript enabled to view it for inclusion in the final White Paper by 30 September 2011
Author(s): Paul Cunningham, Founder and Coordinator, IST-Africa Initiative / President & CEO, IIMC International Information Management Corporation Ltd, Ireland, Prof. Marlien Herselman, Chairperson, Network of Living Labs in Southern Africa (LLiSA), South Africa, Miriam Cunningham, Coordinator, IST-Africa Initiative / Chief Operations Officer, IIMC International Information Management Corporation Ltd, Ireland
Published by: IIMC International Information Management Corporation Ltd
ISBN: 978-1-905824-28-1